Bio
Journalistic Experience Meets Media Expertise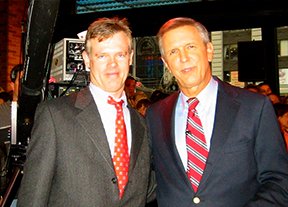 Today's media landscape offers countless opportunities, but can also be daunting and difficult to navigate. For maximum effectiveness and to truly be heard, the counsel of an experienced journalist with vast media connections is essential.
In serving his clients, Tom Martin calls on twenty years of experience as a network television news producer — having served such high-profile journalists as Charlie Rose, Charles Kuralt, Diane Sawyer and Charlie Gibson. [photo] In his more recent work in the field of public relations, Tom has expanded his network of media connections even further.
Having secured coverage for his clients by hundreds of media outlets including NBC's "Today" show, The Wall Street Journal and even "Oprah," Tom Martin is an expert at finding the perfect strategy for connecting with the widest possible audience through multiple media platforms.
Media Strategist

Even with the best of intentions, those in the public relations field who have never actually worked as journalists will never fully understand what it takes to craft a story that producers and reporters will recognize as a "perfect fit." Tom's vast experience ensures media pick-up.
Masterful Connector

Tom thrives on the synergy that results when journalists on the national level and in America's top markets meet individuals with interesting stories and information that can help and inform others, and he is known in the industry for his talent at bringing people together.
Dynamic Speaker

Tom has enjoyed sharing his insights and result-generating strategies with countless groups in the New York City area and throughout the US, tailoring each presentation to the unique needs of each group.
Connecting with target audiences can often seem a complex and mystifying process, and in his presentations, Tom "pulls back the curtain" and shares tips on getting the best possible results.
Today's media environment requires a multi-faceted approach
From authors to inventors, Tom Martin has managed media campaigns for a wide variety of projects, and has a wide range of contacts eager for great stories — from network television news producers to bloggers, and everyone in between.
A Synthesis of Media Approaches

The strengths of traditional media
and the latest social media platforms
are utilized fort maximum effect.

Media Coaching

Tom Martin has worked with investor
George Soros, the CEO of Feeding
America, and many others to hone
their communication skills.

Persuasive Writing & Pitching

Having worked with ABC News,
CBS News and CNN, Tom Martin has
mastered the art of persuasion when
it comes to getting stories on the air.