Back in June of 1992, the furor in the press blew a silly (and no doubt embarrassing) incident quite out of proportion, and twenty-five years later, former Vice President Dan Quayle has probably still not "lived it down."  My intention in this blog post, however, is not to focus on the day when Quayle visited a sixth grade English class in New Jersey and "helpfully" encouraged a student at the blackboard to add an "e" to the end of the word "potato," because he said the young man had not spelled it quite right.  Instead, I want to tell you about Quayle's encounter two years earlier with a retired schoolteacher who wanted his help in taking her tutoring program to the national level.  The enthusiastic and innovative thinking that led to the creation of that tutoring program is what I mean by "wisdom in our own backyards" — and it's the kind of idea that every one of us can come up with in our own unique way.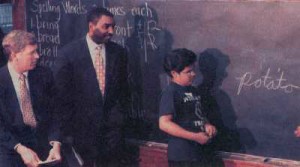 That feisty "little old lady" was the irrepressible Julia Goldstein — and one day when she was visiting the first grade classroom of her young grandson in University Park, Missouri, she noticed a couple of the children daydreaming, simply staring out the window rather than focusing on their schoolwork.  Having served as an elementary school teacher herself for more than 50 years, Ms. Goldstein felt certain that if teachers allowed these young students to fall off course with their studies, it would affect the way they engaged in education for years to come.  
Then at the age of 85, it occurred to Ms. Goldstein that a number of her retired friends felt somewhat disconnected from their families and were looking for a better way to pass the hours each day.  She quickly arranged to pair one of her retired friends with a first grade student for one hour each week, as sort of an "honorary grandparent," and the results were impressive.  Simply by showing an interest in each young student's academic performance, and letting them know that someone really cared about them — even if parents at home were too busy to pay close attention to their work at school —  there was a noticeable boost in self-esteem and in the quality of their work.  The program grew to include approximately 60 senior citizens and the same number of students, and it was truly a "win-win" for both partners of each tutoring team.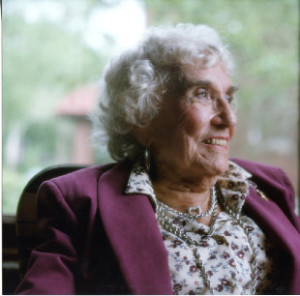 One year after bringing her tutoring program to the attention of Vice President Quayle, Julia Goldstein was honored by then President George H.W. Bush, as one of his "Thousand Points of Light" — a program that celebrated a wide range of inspiring volunteers, all dedicated to making a difference in their community and in our nation.
In 1991, at a special ceremony in Orlando honoring more than 500 individuals singled out as "Points of Light" for their vision and dedication President Bush quoted another great visionary, Walt Disney.  "The greatest moments in life are not concerned with selfish achievements," Disney said, "but rather with the things we do for the people."  President Bush said that Walt Disney would have been proud of the leaders they were celebrating that day, paying tribute to "the American spirit, the greatest natural resource of this, the greatest nation in the entire world."  He called the award recipients "American heroes," and praised them for showing "the better angels of our nature, for volunteering to help others in their own communities."  He concluded by saying that "They sum up the genius of this great and generous land; ordinary people but doing extraordinary things."
In his speech, he singled Julia Goldstein out by name, noting that even at the age of 91 she was inspired to visit her local elementary school nearly every day, to make sure that she was doing her part to keep the young students "on track."
In 1994, two years after her death at the age of 94, a preschool in University Park was named for this inspiring grassroots hero — the Julia Goldstein Early Childhood Education Center.
While some news producers might have looked at the idea of traveling to St. Louis to interview a retired schoolteacher then in her 90s as something less than a "dream assignment," I remain glad that CBS news correspondent David Culhane and I had the opportunity to meet this remarkable woman.  I had the pleasure of visiting Ms. Goldstein once or twice in the years that followed, and wish I could tell her that her spirit truly does live on.  
One of the sad aspects of my work for Charles Kuralt at CBS Sunday Morning was the fact that quite often I'd be sent to do a story about someone in their seventies … or eighties … or, like Ms. Julia Goldstein, their nineties — and we'd become friends.  Those friendships were often bittersweet because, all too often, they came to a sudden end just a few years after we met one another.  This was also the case with aerial photographer Robert Cameron and environmental advocate Marjorie Stoneman Douglas, who holds the distinction of being the oldest person I've ever interviewed, at the age of 105.
What can we all learn from Julia Goldstein's example?  I believe the lesson here is that we each have the opportunity to make our own "small corner of the world" (figuratively "our own backyard") a little bit better, and — through the ripple effects that follow, we have the chance to improve the lives of others.  I encourage you to think about a situation or challenge in your town or neighborhood, and reflect on how (perhaps by combining forces with other like-minded individuals) you can make a difference in the lives of others.  When you have a chance to see the results of your action, I can assure you that it's well worth the time and effort!